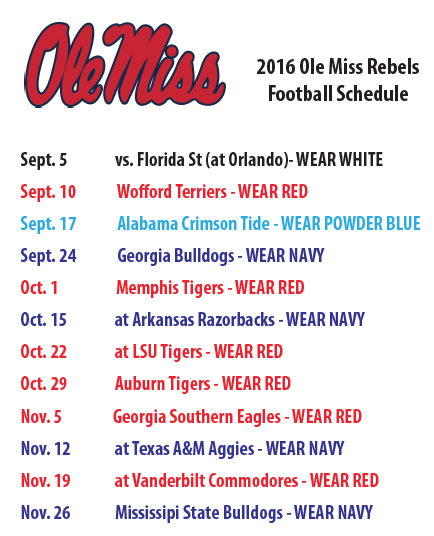 Ole Miss

Game Day Info
Due to heavy air traffic on game days, please arrive as early as possible. Fuel orders MUST BE submitted by half time! No fuel will be sold/pumped after half time for safety reasons. Thank You!
No vehicular traffic will be allowed on the ramp on game day.
**Special Event Departure Procedures for Oxford Airport**
Control Tower Open:  Contact the tower on 119.55
Control Tower Closed:  Use the following procedures:
IFR Departures:
Contact Memphis Center on frequency 135.075(GCO) for departure clearance when number 5 for departure (DO NOT ATTEMPT TO OBTAIN CLEARANCE THRU FLIGHT SERVICE).
Advise Memphis Center via the GCO frequency when number 1 for departure.
VFR Departures:
 Pilots wanting VFR flight following should make the request on the following ATC frequency at the distance specified.  Please do not contact the ATC facility until you have reached the specified distance from the Oxford Airport.
          UOX 280-030 at 10 DME, contact MEM Approach on 124.65
          UOX 031-090 at 25 DME, contact MEM Center on 124.35
          UOX 091-279 at 25 DME, contact MEM Center on 128.5
Temporary Flight Restrictions
The airport is located within the football stadium TFR that is in effect one (1) hour prior to scheduled kickoff until one (1) hour following the game. When the TFR is in effect for the football games without a temporary control tower, it is recommended that: Arriving aircraft contact Memphis Center on frequency 128.50 prior to reaching 5 nm of the airport; Departing aircraft contact Memphis Center on frequency 135.075, this is the frequency for our Ground Communication Outlet (GCO).  Click here for the full Stadium TFR!
top
Temporary Tower
The Control Tower will be only used for special events such as SEC football games. Hotty Toddy!
Special Events Fees
A Special Events Fee Will Be Assessed for ALL Ole Miss Home Games!
Credit Card or Check accepted, No Cash
(Special event fee is NOT waived with purchase of fuel.)
Special Event Fees are charged in place of Ramp Fees on Game Day. Ramp Fees for all other days are charged as normal.

Piston Aircraft will be parked in the grass alongside the runway (weather permitting).
Airport Shuttle Service
University-Oxford Airport provides shuttle services FREE of charge to Vaught-Hemingway Stadium. Shuttles will run continuously until two (2) hours after the game.  The drop off and pick up point is located at the Central Mechanical Plant building just to the East of the stadium on Gertrude Ford Blvd, pictured below: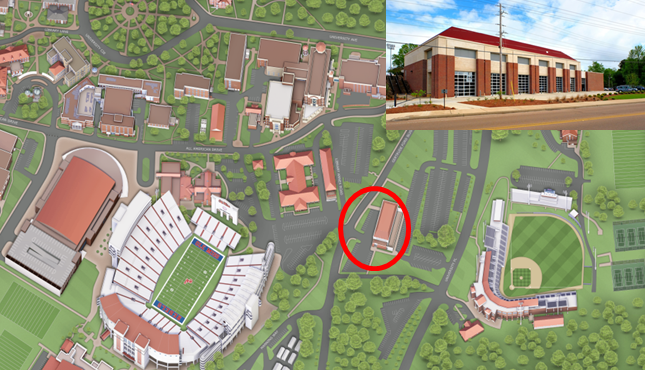 top
Rental Cars, Limousine Services, and/or Taxi Services
Hotels and Accommodations
Catering Information