Services
Ramp Fees
First Days fee is waived with minimum fuel purchase!
Credit Card or Check Accepted, No Cash!
We accept: American Express, AvCard, Discover, MasterCard, Multiservice, Phillips 66/76, Visa.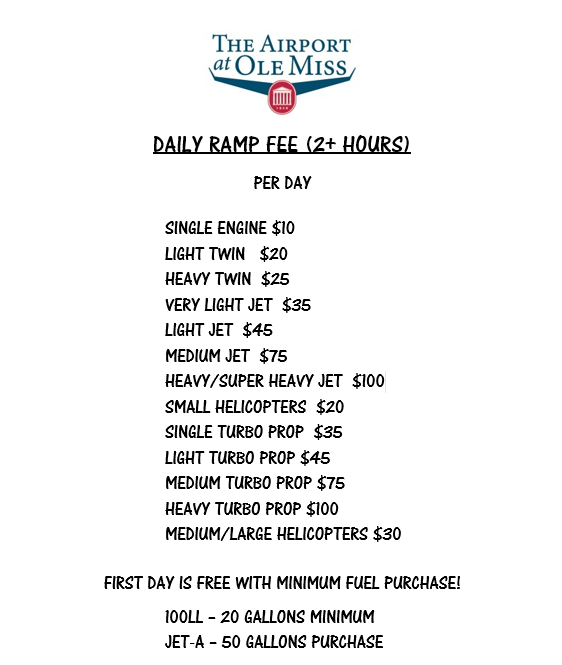 Special event fees are not waived with a fuel purchase.

Tie Downs
Tie Down space is FREE! You may tie down your own aircraft; ropes are located on the asphalt west of the ramp.
(Please note: For football games tie down space is west of taxiway C in the grass. The special events fee still applies.)


Fuel
We provide quality Phillips 66 Aviation Fuels!!!
Jet-A $4.70 per gallon (250 gal or more $4.45)
AvGas $4.80 per gallon (50 gal or more $4.55)
We do not offer any self serve service for fuel
(updated 03/15/2017)

Callout Service
A Callout Fee of $120.00 will be charged for after hours or holiday service.
For callout service call 662-832-5689.

Available Services
We wish to provide phenomenal customer service! Services available are as follows:
Cable Boost ($25)
Complimentary Courtesy Vehicle – 2 hour time limit – first come first serve
Free Tie Downs (Special events fee will apply for games and other events)
Free Internet Access (WiFi)
Complimentary Ice and Coffee
Flight Planning Room (MeteorLogix, Aviation Sentry Weather Radar)
Complimentary Football Game Day Shuttle
The shuttle runs all day and ends two (2) hours after the game.
All types of Charters are welcome and supported!
Crew Lounge
Large Executive Terminal

GCO Frequency
UNICOM Frequency 123.0
GCO Frequency: 135.075

Weather Data
Automatic Weather Observation System (AWOS)
Frequency: 132.725
Phone No. 662-234-9751
Current Weather Forecast
top

Courtesy Car
Our complimentary courtesy vehicle is available on a first come, first serve basis and is available for 2 hours at a time. Whether you are flying in for lunch, a business meeting, or to shop on the historic downtown square, you can't beat a free ride into town!
Staff Directory
Mac McManus 
Airport Manager
Julie March
Airport Secretary